Walking New Zealand – The magazine
What inside the latest issue?
Walks to explore and other stories in Walking New Zealand magazine 271 OCTOBER 2020
ISSUE 271 2020 out in stores.
PAGE   CONTENTS
2 Pak – A – Roo Walking Jacket
3 Contents
4 Walk Talk
6 New Zealand Walk: Ducks, Gnomes and Dinosaurs: Just a normal day in the Whirinaki Conservation Park
8 New Zealand Walk: Castle Hill: a walk through huge boulders
13 New Zealand Walk: Much loved Spraggs Bush Track reopens
14 New Zealand Walk: The Tinui ANZAC Walkway: a memorable walk
16 News: Te Araroa partners with NZ Walking Access Commission
18 Walking New Zealand Monthly Photo Contest
20 New Zealand Experience: Our Routeburn experi- ence: Water, floods and everything else that could go wrong
24 Lockdown Activities: Nature is good for us
26 New Zealand Walk: An Architectural Walk
28 My Favourite Walk: Along the walkway at Macandrew Bay
30 Cycling Tours: Trip through the tulips
34 New Zealand Walk: Nydia Track – something for everyone
38 New Zealand Walks: Exploring the scenery of the Far North
42 Te Araroa Trail: Te Araroa Northland Trust revitalised
43 Index of previous 14 issues
44 Subscription page
45 Coming Events: New Zealand
48 New Zealand Walking Tours
48 New Zealand Country Breaks
51 Event: Manawatu Walking Festival
52 Wilderness Guides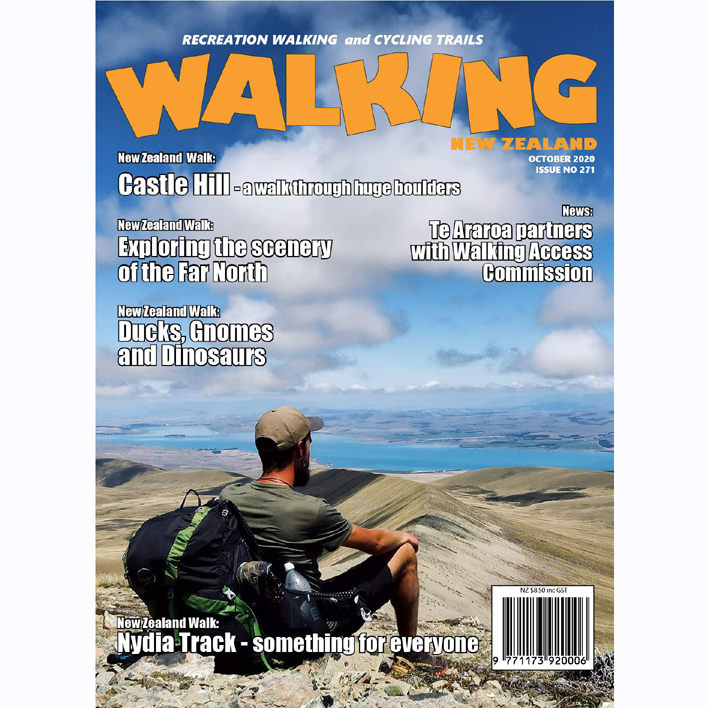 How's your activity going during the lockdown? We would love to hear what you are doing to keep active now you are restricted to a bubble, during the lockdown. Just send us by email to walkingnz@xtra.co.nz a story with say from 100 to 500 words, telling what activity you are doing now, since you are confined to your bubble. You could include one image if you have one showing what you are doing. Please include your name and address and it could be published in Walking New Zealand magazine. Items that are published will receive a free 6 month subscription or extension to Walking New Zealand magazine.